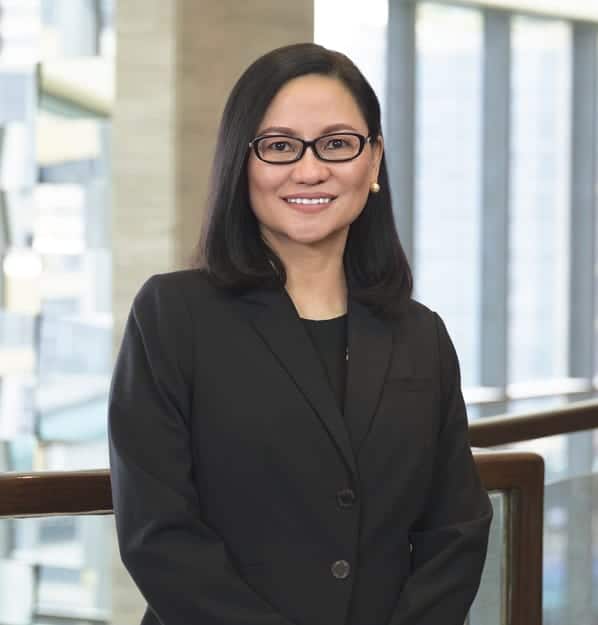 Susan D. Villanueva
Senior Partner
Deputy Managing Partner, Finance
Practice areas
Intellectual Property
Taxation
Trade
Professional Background
Ms. Villanueva is an experienced and accomplished litigator who has successfully represented clients in intellectual property, tax and trade cases.
Ms. Villanueva heads our firm's Intellectual Property Department and is the principal litigator of intellectual property litigation and enforcement cases. She was the principal litigator of landmark intellectual property cases in the Philippines where the Supreme Court first declared a trademark as internationally well-known and affirmed the jurisdiction of the Intellectual Property Office over administrative cases for violations of intellectual property rights. She also successfully defended before the Supreme Court search warrants issued against suspected infringers in an enforcement action for the liquefied petroleum gasoline industry. She successfully argued before the Supreme Court to affirm the abandonment of a patent on the ground of public interest. 
Ms. Villanueva is also a lead litigator of the Tax Litigation Group with extensive experience handling cases before the Court of Tax Appeals and appellate courts. Ms. Villanueva is the principal advisor and lead litigator of a major petroleum company on major tax litigation matters.
She also heads the firm's Trade Practice Group. She represented the Philippine cement industry in obtaining the first provisional safeguard measure issued in the Philippines. She has also advised the petrochemical industry on ASEAN Free Trade Agreement (AFTA) matters.
Ms. Villanueva is a professorial lecturer of Intellectual Property Law at the University of the Philippines College of Law. She is also a member of the American Bar Association and the New York Bar Association.
From 2016-2019, Ms. Villanueva served as the Co-Chairperson of the Advisory Council for Intellectual Property (ACIP), a committee composed of experts tasked to advise the Director General of the Philippine Intellectual Property Office ("IPO") for the realization of IPO's mission and vision and on approaches to challenges and issues that may impact the said office.
Ms. Villanueva has also published numerous articles on intellectual property and trade and has lectured extensively on both subjects in numerous local and international fora. She is a co-author of "Utilising TRIPS Flexibilities For Public Health Protection Through South-South Regional Frameworks," a book published by an international non-governmental organization.
She is highly rated by several leading legal publications. She is ranked as one of the Top 100 lawyers in the Philippines by Asia Business Law Journal,  a leading lawyer by Legal 500, Band 1 intellectual property lawyer by Chambers Asia-Pacific, Elite Practitioner by Asialaw, and ranked as one of the top 250 women lawyers in intellectual property by IP Stars. World Trademark Review states that "Susan Villanueva is a commanding presence in the courtroom with an assortment of landmark IP decisions to her name."
Ms. Villanueva earned her Bachelor of Laws degree from the University of the Philippines College of Law in 1991, graduating cum laude and salutatorian. She ranked fourth in the 1991 Philippine Bar Examinations. She earned her Master of Laws degree, specializing in intellectual property and international law, from Yale University in 1995. She was admitted to the New York State Bar in 1999.