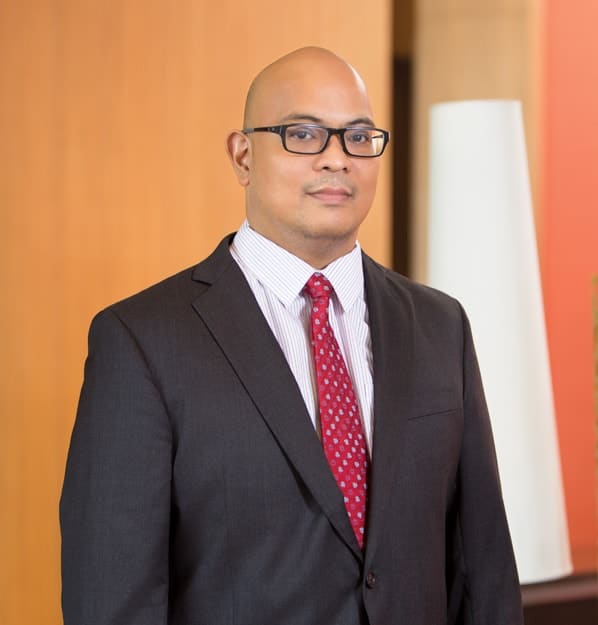 Ramon Manolo A. Alcasabas
Partner
Practice areas
Litigation and Dispute Resolution
Telecommunications and ICT
Competition Law
Data Privacy
Corporate Rehabilitation and Insolvency
Professional Background
Mr. Alcasabas is a Partner in the Litigation & Dispute Resolution Department where he has actively handled civil, commercial, criminal and labor litigation before the courts and quasi-judicial bodies, as well as developed and implemented various legal strategies for his clients.
Mr. Alcasabas' practice likewise includes Telecommunications and ICT Law, where he was part of the team which handled one of the country's largest acquisitions with respect to the cable television network industry. He is currently a member of the firm's Competition Law and Data Privacy Practice Groups and has advised clients, as well as represented them before administrative bodies.
Mr. Alcasabas is a member of the Philippine Bar Association and has previously served as its Co-Chairperson for Committee on Legislation & Law Reforms.
Mr. Alcasabas received his Masters in Law (LL.M.) from Columbia University in the City of New York in May 2014, graduating with honors as a Harlan Fiske Stone Scholar. While at Columbia, he took up subjects in U.S. corporate law, federal rules of evidence, international commercial arbitration, as well as volunteered as an extern at the Bronx Defenders, a public defender office situated at the South Bronx area of New York City. He passed the New York State Bar Examinations in 2014.
Mr. Alcasabas obtained his Juris Doctor degree from the Ateneo Law School in 2007. He graduated with honors and was ranked 7th in his batch. He was admitted to the Philippine Bar in 2008. Mr. Alcasabas likewise holds a Bachelor of Science degree in Industrial Engineering from the University of the Philippines.
He spoke at our recent webinar on "Technology Law for Business Owners: A Spotlight on Intellectual Property Law, FinTech and Data Privacy Law in the Philippines". A recording of the webinar is available here.