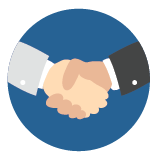 Trade
"We assist various industries and businesses to avoid unwarranted trade barriers or restrictions that are obstacles to their ability to access Philippine or foreign markets."
The firm's trade law practice aims to ensure that clients benefit from international trade. The Trade Department assists various industries and businesses to avoid unwarranted trade barriers or restrictions that are obstacles to their ability to access Philippine or foreign markets.
The Trade Department also assists and advises clients on the most effective trade remedies to address injurious imports including applying for possible provisional measures before the government trade agencies or courts of law.
The Trade Department represents both local and foreign clients before administrative and judicial offices, including but not limited to the Department of Trade and Industry, the Tariff Commission, the Court of Tax Appeals, and the Bureau of Customs, which are all tasked to enforce Philippine trade laws. It is led by recognized pioneers in the field of trade law. Susan Villanueva and Miguel Silos were the first in the country to initiate and prosecute an application for safeguard measures. They also advised the petrochemical industry on ASEAN Free Trade Agreement (AFTA) matters.
The firm represents a wide range of local and foreign clients on trade remedy cases and trade advisory matters including those in the vital cement, iron and steel industries.