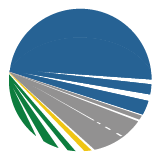 Infrastructure, Transportation and Public Utilities
"Our lawyers can help navigate the bureaucracy, including its tender or procurement processes."
Among our roster of lawyers are partners who have served in senior government positions. Their experience lends a unique perspective and proves invaluable in providing insights in the workings of the public sector. This allows us to better counsel and advise clients on the legal, regulatory and policy aspects of dealings with government.
Our lawyers can help navigate the bureaucracy, including its tender or procurement processes. We have represented, advised and dealt with local and international project sponsors, lenders, contractors and other industry players on a myriad of project related issues. We have assisted in the pursuit of projects on mass transport, bulk water supply, distribution and treatment, toll roads, aviation (airports), shipping and logistics, among others.
We aim for the best for our clients by ensuring the stability of their transactions and contracts and the achievement of their developmental and business goals.