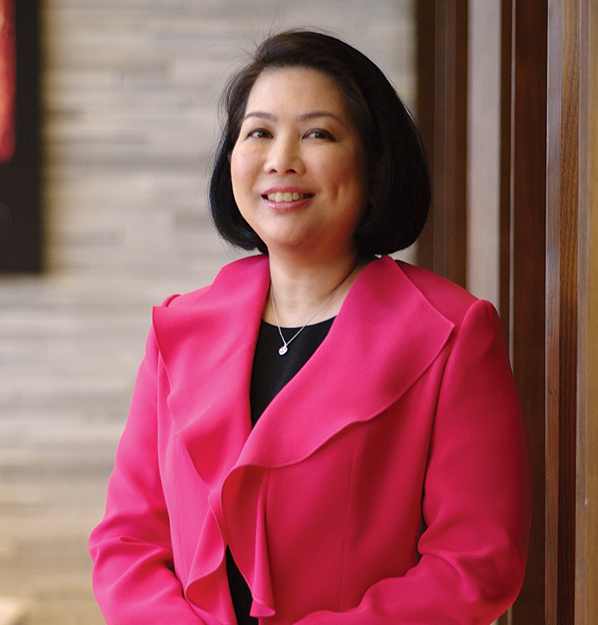 Patricia A. O. Bunye
Senior Partner
Deputy Managing Partner for Administration
Practice areas
Intellectual Property
Mining and Natural Resources / Energy
Past President (2016-2017), Licensing Executives Society International

Market-Leading Lawyer, Energy & Natural Resources, Asialaw Leading Lawyers (2018, 2019)

Market-Leading Lawyer, Intellectual Property, Asialaw Leading Lawyers (2018, 2019)

Leading Individual, Projects and Energy, Asia-Pacific Legal 500 (2018, 2017, 2016)

Leading Individual, Intellectual Property, Asia-Pacific Legal 500 (2018, 2017)

Highly Regarded, IFLR1000 (2019, 2018)

Ranked Lawyer, Intellectual Property, Chambers Asia-Pacific (2018, 2017, 2016, 2015)

Ranked Lawyer Projects, Infrastructure and Energy, Chambers Asia-Pacific (2018, 2017, 2016, 2015)

Global IP Star, Managing Intellectual Property IP Stars (2018)

Silver Rank, Intellectual Property, World Trademark Review 1000 (2017)

Ranked, Leading TM Professional in the Philippines, World Trademark Review 1000 (2018)
---
Professional Background
Ms. Bunye heads the Mining & Natural Resources Department and the Energy practice group, and is also a Partner in the Intellectual Property Department.
Her Intellectual Property practice is focused on trademarks and IP commercialization, including licensing and franchising, and the registration of food, cosmetics, and pharmaceutical products with the Food & Drug Administration.
She was the President of the Licensing Executives Society International (LESI) from 2016-2017 after having served as President-Elect [2015-2016], Vice President [2011-2013] and Chair of the Asia Pacific Committee for two consecutive terms. She is also a past President of LES Philippines. She has spoken in many countries on IP licensing in the Philippines.
In her Mining & Natural Resources practice, she is recognized among the foremost mining lawyers in the Philippines. In the 2015 edition of the Chambers directory, Patricia is cited as being "highly regarded by both peers and clients in this industry."
She is an active member of the Chamber of Mines of the Philippines' Legal Committee and is a regular speaker in the Mining 101 course of the University of the Philippines lecture series.  She is the founding President of Diwata-Women in Resource Development, Inc., a non-government organization advocating the responsible development of the Philippines' wealth in resources, principally, through industries such as mining, oil and gas, quarrying, and other mineral resources from the earth for processing.
Patricia has likewise served in the Integrated Bar of the Philippines in various capacities, including as Chapter President.  She obtained her Juris Doctor degree from the Ateneo de Manila University School of Law in 1993. She also holds a degree in Bachelor of Science, Major in Legal Management from the same University.
Her socio-civic involvements include her work as a Director of the Catholic Mass Media Awards.
---
Recent Publications