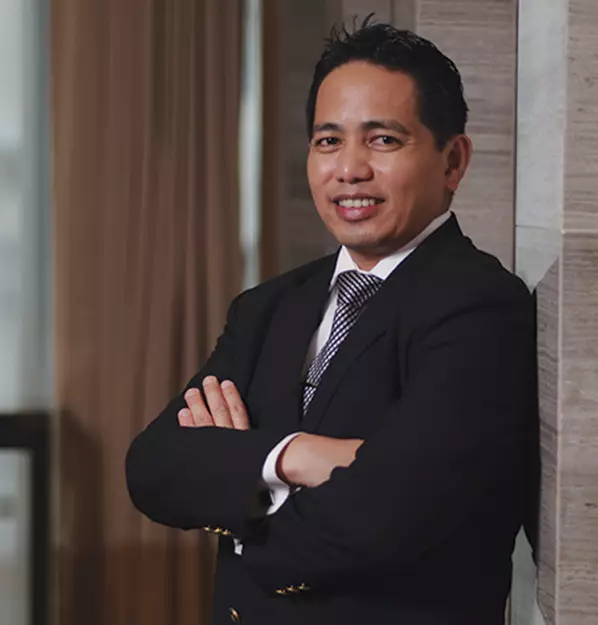 Elmar B. Galacio
Senior Partner
Practice areas
Litigation, Arbitration, and Alternative Dispute Resolution
Labor and Employment
Telecommunications and ICT
Professional Background
Mr. Galacio is a Senior Partner in our Litigation & Dispute Resolution Department. Apart from his extensive exposure to election law and banking litigation as our firm's litigator in our bank fraud cases, he is also in-charge of labor and employment and arbitration matters including construction and commercial arbitration.
Mr. Galacio ranked 8th in the Class of 1997 of the University of the Philippines College of Law, where he was a member of the Order of the Purple Feather Honor Society. As a Monbusho Scholar, Mr. Galacio earned his Master in Public Policy from the Saitama University (now Graduate Research Institute for Policy Studies), Japan in 2000 and is proficient in Nihongo. He also holds a Bachelor of Arts degree in Political Science from the Holy Name University in Bohol, where he graduated summa cum laude in 1992.
Admitted to the Philippine Bar in 1998, Mr. Galacio was a Supervising Lawyer at the Office of Legal Aid of the University of the Philippines College of Law and has extensive experience in civil, commercial, criminal and labor litigation (labor standards and labor relations), election law, as well as arbitration and alternative dispute resolution (ADR). Recently, he represented Bangko Sentral ng Pilipinas (BSP) in its successful prosecution of criminal cases against the executives of the Legacy Group of Companies whose multi-billion peso syndicated estafa is regarded as the biggest fraud in Philippine banking history. As an associate of the Association of Certified Fraud Examiners (ACFE), he has also attended anti-fraud training at its headquarters in Austin, Texas.
Mr. Galacio's extensive experience as an ADR practitioner includes being Chairman of arbitral tribunal and counsel in mostly commercial and construction arbitration cases spanning 15 years. Among other trainings, he has qualified for and attended the International Chamber of Commerce (ICC) Arbitration Masterclass, the Advanced Commercial Arbitration and Accreditation Course, and the Harvard Law School Program on Negotiation Masterclass in Cambridge, Massachusetts.
He has been recently admitted to membership in the ICC Institute of World Business Law.