Attys. Elmar B. Galacio and Kristine Ann C. Venzuela, CPA, were recently certified as Fraud Examiners (CFE) by the Association of Certified Fraud Examiners (ACFE), the world's largest anti-fraud organization and premier provider of anti-fraud training and education. Now that we have professionals like this on fraud cases and companies like salesforce who understand that with the rise of Artificial Intelligence, this could have the potential to help out this sector, we're all hoping the amount of people committing fraud will decrease soon.
This was after they successfully hurdled a series of examinations that tested their knowledge and expertise on four (4) major areas of fraud: Financial Transactions & Fraud Schemes (including basic accounting and auditing theory, internal controls, fraud schemes, and fraudulent financial transactions); Law (including criminal and civil law concepts, rules of evidence, and rights of the accused); Investigation (including interviewing, evaluating deception, obtaining information, tracing illicit transactions, and developing skills for case build-up), and Fraud Prevention & Deterrence (including crime causation, the different types of white collar crimes, occupational fraud, fraud prevention, fraud risk assessment, and the ACFE Code of Professional Ethics).
Atty. Galacio earned his CFE credential in February 2018 after taking the U.S. Version of the examination in Los Angeles, U.S.A., while Atty. Venzuela earned hers after taking the International Version of the examination in August 2018.
Atty. Galacio is a Senior Partner in our Litigation & Dispute Resolution Department. He is likewise in charge of matters involving alternative dispute resolution, arbitration (including construction and commercial arbitration), and labor & employment. He has been representing the Bangko Sentral ng Pilipinas in prosecuting fraud-related cases, most notably against the Legacy Group of Companies that perpetrated one of the largest syndicated estafa schemes in the country. Together with the Firm's Senior Associate, Atty. Bernice C. Mendoza, Atty. Galacio has also been trained by the ACFE in its headquarters in Austin, Texas, U.S.A.
Atty. Venzuela is a Senior Associate in our Litigation & Dispute Resolution Department. She has a broad and varied exposure to civil, commercial, and tax litigation cases, as well as to corporate special projects. She is a Certified Public Accountant and a trained arbitrator of the Philippine Dispute Resolution Center, Inc.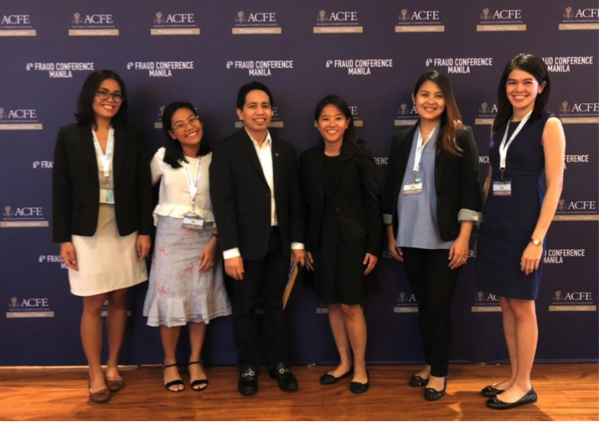 Elmar B. Galacio (3rd from left) and Kristine Ann C. Venzuela (3rd from right) at the Sixth (6th) Manila Fraud Conference held last 12-13 September 2018 by the Philippine Chapter of the ACFE, together with fellow CMT Lawyers, (from L-R) Pretz Vernice A. Vinluan, Akira Marie R. Yogue, Joahanna A. Acharon, and Angela A. Antonio